Finger Mingle is the ultimate iPhone™ and iPod Touch™ challenge, testing your cleverness and finger flexibility to solve a series of exciting puzzles. The simple goal of placing colored buttons on their checkpoints suddenly becomes tricky, forcing you and your partner to move, bend, and twist your fingers like never imagined. Furthermore, the limited screen surface naturally requires some fun finger mingling and closeness, perhaps the perfect ice-breaker for a first date.
Whether playing alone or with a partner, Finger Mingle is guaranteed to bring much laughter and a fascination with the art of finger mingling. Featuring over 50 levels, the beautifully crafted game surfaces will keep you excited and motivated to master them all.
Features:
26 levels for playing with a partner
25 levels for playing alone
Six beautifully crafted game surfaces with loads of obstacles: desk, kitchen, workshop, floor, bathroom, and notepad
Up to five buttons to move at the same time: you decide how many hands the level will require to master
Sounds specifically crafted to let you know what your mingled fingers are doing
Tactile feedback through vibrations
Instructions:
Touch all the colored buttons at the same time to begin
Once touched, move the buttons without letting go to their corresponding checkpoints
Once all the buttons are on their checkpoints and pulsating, the level is complete
Make sure to avoid obstacles as they block your way
Increase your score by moving the buttons using the shortest path possible while always keeping low tension between them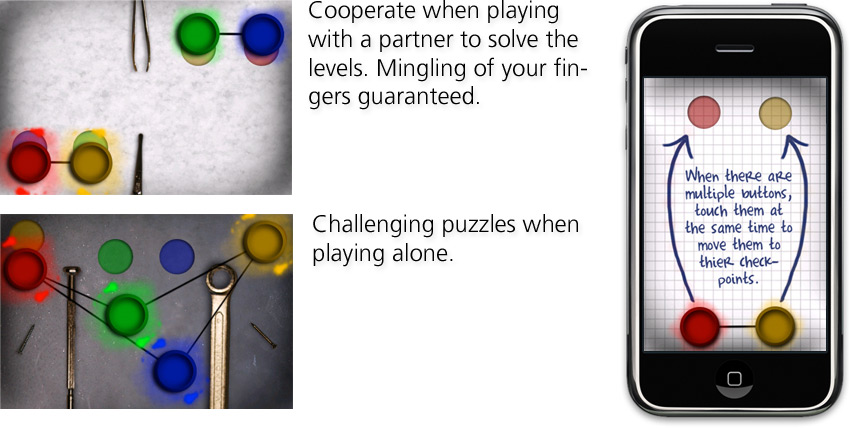 Other Products

FingerMingle Valentine's Edition
The Valentine's Day version of the game.
The ultimate flirting game.